EX70-110/220C-01

ААОТ.435131.110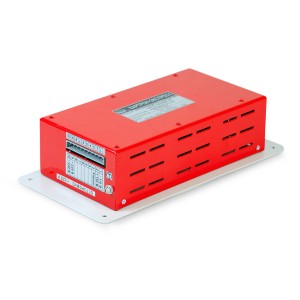 Purpose
To power laptops, fans, battery chargers, electric shavers etc. in the engine electrical systems of passenger cars.
Provides
Voltage conversion of 110 V DC network to 220 ​​V galvanically isolated AC (rms) stable voltage with 50 Hz sinusoidal frequency.
Technical characteristics
Input voltage range in DC mains, V: 80 to 150
Output voltage, V, rms: 220 ± 10%
Output voltage frequency, Hz: 50 ± 0,4
Allowable load power, W: up to 100
Built-in protection against:
- overcurrent and output short circuit;
- input overvoltage;
- reduction of input voltage below the permissible value;
- power modules overheating
Overall dimensions, mm: 255 x 130 x 60
Weight, kg: no more than 2,5
Enclosure protection level: IP30 according to GOST 14254-96
There is a Wago connecting block to hook up to input circuits.
Operating conditions
Climatic version: UHL 3.1 (boreal climate) according to GOST 15150-69
Operating temperature range: -10 ° C... +50 ° C
Remains functional after staying at -40 ° C
Mechanical design: M25 according to GOST 17516.1-90E
Single-acting blows with acceleration to 5 g
The average service life is not less than 20 years
Consumers
Kryukov Railway Car Building Works (Ukraine)
Gomel railway-car repair plant (Belarus)