Unified sanitary complex

ААОТ.332319.001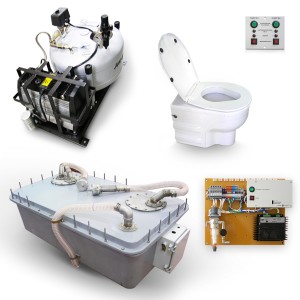 Unified sanitary complex
For cars
47K car
61-779 car, size according to RIC
Purpose
For passenger cars and DL-02 diesel trains under construction and those which are subject to overhaul reconditioning.
Functions:
Reception and removal of human waste by intensive dosed water flushing to the storage tank, meeting modern requirements for sanitary standards, environmental safety, creation of necessary comfortable conditions for passengers.
Compostion:
SANIVAC toilet units
storage tanks AAOT.307341.001-04-05, AAOT.307341.001
heating system with dual heaters redundant to protect storage tank enclosure from freezing
compressor installation AAOT.064724.010
control units AAOT.421249.129
display unit AAOT.425514.220
indication of WC occupancy and unified sanitary complex equipment operability
WC occupancy indication board ААОТ.467845.028
Compressor system with 220 V 50 Hz AC motor with stable electric power supply at mains voltage fluctuations of the car from 80 to 150 V DC.
Technical characteristics
Storage tank material: constructional glass-fibre material
Storage tank liquid volume, l: 300
Overall dimensions of storage tank, mm: 1630 x 910 x 490
Weight of empty storage tank, kg: not more than 120
Indication of storage tank filling by 85% and 90%: emergency
Operating conditions
Mechanical design: M25 GOST 17516.1-90E
- in-car equipment
toilet block: UHL 3.1 (boreal climate) according to GOST 15150-69
- other equipment
U3.1 (temperate climate) in operating temperature range -40 ° C. .. +50 ° C
storage tank: U.1 (temperate climate) according to GOST 15150-69
The average service life is not less than 20 years
Consumers:
Kryukov Railway Car Building Works (Ukraine)
JSC HC "LuganskTeplovoz" (Ukraine)
Kharkiv car-building factory (Ukraine)