Sanitary module for electric locomotives

AAOT.304567.300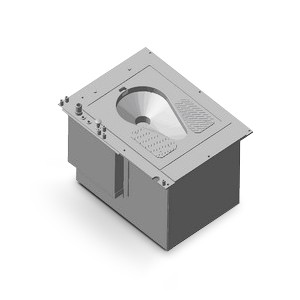 Purpose
It is installed in 2EL5, 2EL4 electric locomotives and other locomotives for maintenance of locomotive crews.
The module is designed for reception and disposal of fecal waste to the storage tank by intensive dosed water flushing.
The storage tank is easily removable and portable, which allows for easy emptying and disinfection.
The module meets modern requirements for environmental protection.
The module is supplied with electricity, water and compressed air from locomotive.
Technical characteristics
compressed air pressure for module operation, mPa: not less than 0.3
consumption of water per flush, l: not more than 0.6
compressed air consumption per flush, l: 1.5
storage tank volume, l: - 16
weight of module equipment, kg:
- the toilet block with storage tank – 50
- control unit – 2
- protective cover – 20