External information board TI3

ААОТ.467845.022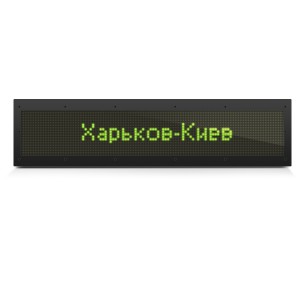 Flip-disc display

It is installed in railway cars as an external display – route indicator.
Information about the route of the train, arrival and departure etc. can be recorded to the display with the help of a laptop, a dedicated device in advance, or be received from the train master's workstation through RS-485 interface device.
Technical characteristics
Input voltage range in DC mains, V: 80 ... 150
Power consumption, W: no more than 7
Visible area, mm: 850 х 160
Resolution, points: 84 х 16
Overall dimensions, mm: 960 х 230 х 70
Weight, kg: no more than 11
Enclosure protection level: IP65 according to GOST 14254-96
Wago connectors are used for external circuits installation.
Operating conditions
Climatic version: UHL 3.1 (boreal climate) according to GOST 15150-69
Operating temperature range: -20 ° C. .. +50 ° C
Remains functional up to - 40 ° C
Mechanical design: M25 according to GOST 17516.1-90E
Single-acting blows with acceleration to 5 g
The average service life is not less than 28 years
Consumers
Kryukov Railway Car Building Works (Ukraine)