Voice communication system

AAOT.425620.100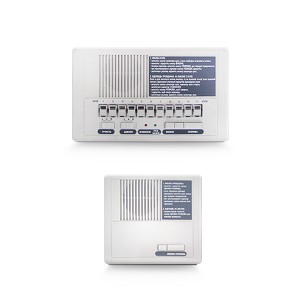 Internal communication system "Visit"
Purpose
To ensure the voice communication of the conductor with passengers of the car.
The system consists of a base station, installed in the service compartment, and 12 passenger stations.
Communication of a base station with each passenger is carried out through the two-wire line.
The base station provides the opportunity to work in two modes:
voice data exchange mode with any one passenger of the system
broadcast mode when the base station transmits voice data simultaneously to all passengers of the car
The base station call by a passenger is carried out by audible tone, while voice messages can be transmitted only after the reply from the base station.

The system makes impossible to listen to the passengers' conversations.
Technical characteristics
Power consumption, W: 15
Input voltage range, V: 36 ... 72 or 72 ... 150
The number of components in the system:
- base Station: 1
- passenger station: 12
Overall dimensions, mm:
- base Station: 255 x 155 x 55
- passenger station: 170 x 155 x 55
Weight, kg:
- base Station: 0.6
- passenger station: 0.3
Operating conditions
Climatic version: UHL 3.1 (boreal climate) according to GOST 15150-69
Operating temperature range: -10 ° C... +40 ° C
Storage temperature: -60 ° C... +80 ° C
Mechanical design: M25 according to GOST 17516.1-90
Mean time to failure, hours: 10000 and more
The average service life is not less than 25 years
Consumers
A new design for carriages of Kryukov Railway Car Building Works (Ukraine)